In industrial and commercial sector or remote areas where supervision and controlling is required, Remote Terminal Unit is the best solution which can deliver it with ease along with real time data. It reports the various site parameters which will help you to analyze and study site situations. This is a comprehensive solution to provide each and every details of site on your computer dashboard anytime and anywhere across the globe.
The application works on the GPS/GPRS technology to track the exact position of site. In case, if some alarms generation occurs on site then, SMS alerts will be send to the pre-assigned mobile numbers or via E-mail alerts.
Highly elaborative and explanatory reports can be generated in the form of Graphs and comparative data sheet, which help to keep the track of the overall performance of remote site.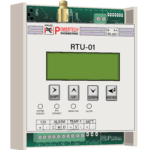 GENERAL FEATURES:
1) RTU is very user friendly, compact and totally safe in its operation.
2) State of Art Micro controller based system.
3) Easy to customize and can be expanded by connecting ADDON's as per site requirements.
4) Monitor real time Site conditions.
5) Ability to measure different parameters like fuel level, site temperature, site AC energy, DC energy, Multiple Alarm inputs etc.
6) Data send to the server through GSM/ GPRS technology.
7) Device also gives GPS location which help to locate site position on web-based application remotely. This feature is provided as per client requirements.
8) On site generated alarms will send through SMS and E-mail service.
9) Device also gives alert for fuel drain out and top-up through SMS or through Mobile application notification.
10) Device supports multiple communication methodologies like LoRa, WiFi and Bluetooth for device to device / device to user interaction. This feature is provided as per client requirement.
11) In case for network uncertainty, device contains internal data logging facility and whenever network gets healthy it pushes all saved data to the server.