PRODUCT DISCRIPTION:
The device can be configured to store 6 mobile no. out of which one number is master and rest are slaves.
Ability to extends 7 alarms to 6 pre-defined mobile no via SMS.
The device also gives notification of Alarm once clear.
Device has a facility to edit or replace slaves mobile number as per priority using SMS command.
The device gives notification to master mobile when device is live.
The device will check input alarm for 5 sec, if alarm is persist for 5 sec then only it will send SMS to defined mobile number.
Network healthy LED indication
If the system healthy led is blinking and master mobile no receive system live message then device is running in the healthy mode
After first device boot user have to assigned master mobile number first, then only master has a authority to assigned other slave mobile numbers.
Replacing of master mobile number is only done by sending reboot command through SMS.
If master assigned any slave number then, device will acknowledge to both slave number as well as master mobile number
Replacement of SIM in device is only be done in off condition always.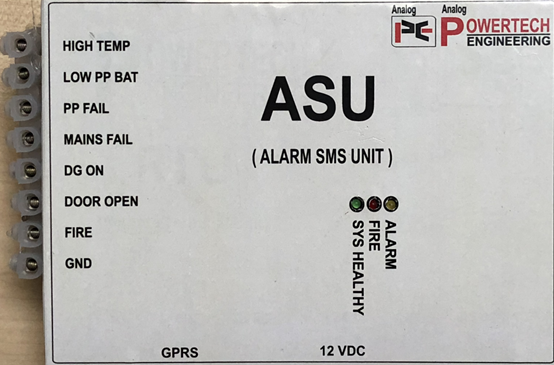 GENERAL FEATURES:
Micro Controller based technology.
GSM based system. With single SIM slot.
Mobile number allotment through SMS facility.
Easy Setting.
8 input alarms are provided by the alarm panel.